The Civil Infrastructure Platform is excited to participate in this year's Open Source Summit EU/ Embedded Linux Conference EU!
The Open Source Summit series always provides unique opportunities to learn and connect, even when we can't be in the same space together. We are looking forward to this year and all the ways to come together with the broader open source community.
Interested in catching up on the latest with CIP at the event? We have you covered! Through talks, our booth, Slack, and our CIP Mini Summit, there are a variety of ways to learn more about CIP.
CIP Talks
At this year's OSS EU, we are excited to have four CIP related talks on the schedule
CIP Mini Summit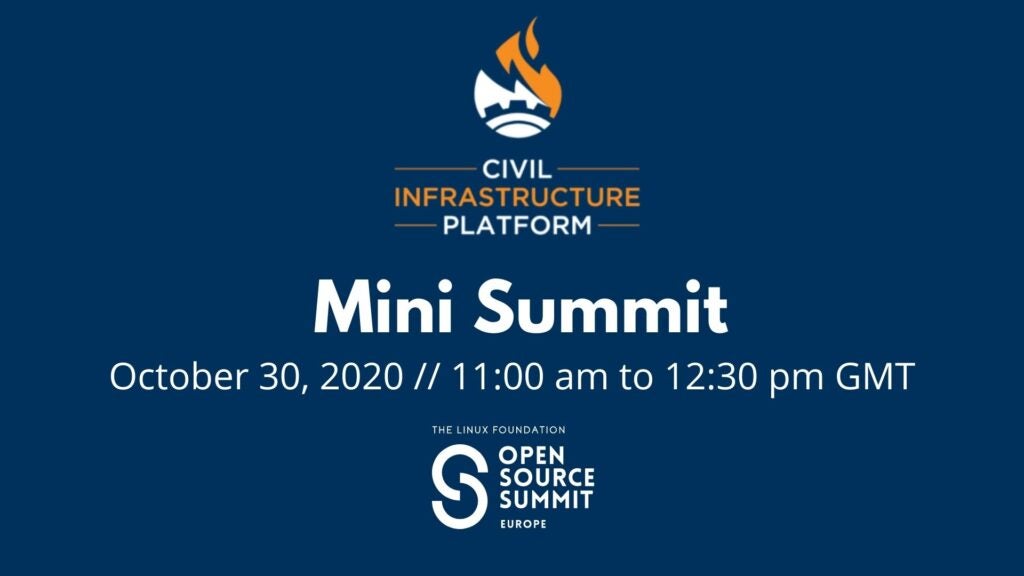 The CIP Mini-Summit is a 90-minute, single-track event on the topic of industrial open source system which is based on Linux. The main goal of this event is to provide technical details and an overview to develop an industrial-grade CIP open source base layer. Sub-groups of CIP will talk about current development activities as well as future plans. Attendees will get to know how their products can leverage CIP's SLTS(Super Long Term Support) to develop Industrial grade products.
Topics to be covered:
State of Civil Infrastructure Platform
CIP Kernel Team Activities towards Super Long Term Support
Status update for testing within CIP
CIP Security towards achieving industrial-grade security
To register for the CIP Mini-Summit, add it on to your Open Source Summit + Embedded Linux Conference Europe registration.
CIP Booth
As a sponsor of the event, we will have an event "home base" for all things CIP. Stop by our booth for more information on the project and ways to get involved.
Visit* the CIP Booth in the Sponsor Showcase
Link:https://www.accelevents.com/e/OSSELCEU2020/portal/expo/23366
*Please note that you will need to be registered for the event as well as Accelevents to view the booth.
If you can't wait until Oct 26th to connect, no need to! Visit us at https://www.cip-project.org/, find us on twitter at https://twitter.com/cip_project, on LinkedIn at and direct any membership questions to membership@cip-project.org.