Author: Daniel Sangorrin, CIP TSC member
Today, at Embedded Linux Conference Europe, the CIP Project announced the new CIP Core. The CIP Core project aims to provide minimal reference file system images and SDK's to test and demonstrate the use of the CIP kernel and the CIP Core packages, a selected set of open source software components that require super long-term support.
Within the open source base layer, the CIP Core connects the CIP Kernel with non-CIP packages (see figure 1).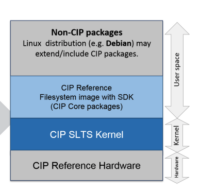 The implementation of the CIP Core is based on the Deby distribution, a reproducible and maintainable embedded Linux distribution based on poky. Deby overlays meta-debian on top of poky to build file system images out of Debian long-term supported source code packages. The associated source code (metadata) is available on the CIP Core repository and this first release contains support for the following CIP reference hardware:
iWave RZ/G1M Qseven Development Kit

Beaglebone Black

QEMU x86_64

DE0-Nano-SoC development kit.
Users of CIP Core can easily extend or customize the reference file system by adding some of the packages already supported by Deby (non-CIP packages).
For more about CIP Core, visit the wiki page, follow the quickstart or check out the source code. You can also register in the CIP's public mailing list to learn more about CIP's technical roadmap and participate in discussions.